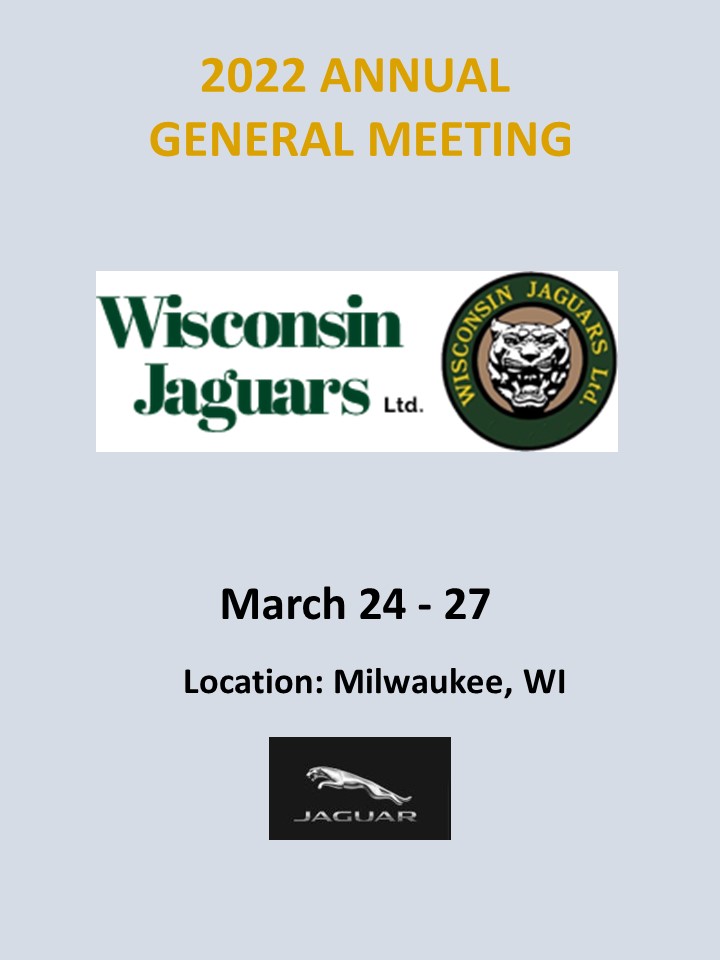 Date: Mar, 24 2022 Mar, 27 2022
EVENT DETAILS
The 2022 AGM is coming up quickly.  The dates are March 24th – 27th.  Wisconsin Jaguars is hosting the event.  It will be held in and around Milwaukee.  The planned activities are not all that Milwaukee has to offer but let's start there first. 
Friday afternoon will be a short bus trip to Mike and Deb Korneli's garage.  The garage houses mostly Jaguars; several with race history.  Of course, there is also garage memorabilia.  There will be a presentation by Brian Sheridan.  Brian was the Engine Program Manager for Tom Walkinshaw when they won at Le Mans.  Brian has an interesting story to tell, and you can get the firsthand scoop about what really happened.  Friday evening will be dinner at the hotel with a great music group that can play everything from Sinatra to Rock.  Cocktails and music will start at 6:00 pm
Saturday's organized activities will begin after the business meeting.  A short bus ride will take everyone to the Wisconsin Auto Museum.  This is located in Hartford.  Hartford is home to the Kissel Car Company.  The company produced cars from 1902 to 1931.  The museum has an eclectic group of cars from 1902 into the 1990's. It's a short ride for dinner at the Linden Inn on Big Cedar Lake.  The Inn has been a gathering place for vacationers since 1908.  After dinner the JCNA awards will be presented to the winning members.
There are many other sites to explore around Milwaukee; none bigger than the Harley Museum. The Milwaukee Art Museum with its collapsing wings is world famous.  It was designed by renowned architect Santiago Calatrava.  No trip to Milwaukee is complete without sampling its craft beers.  A great place to start would be Sprecher Brewing Co.  These are a few ideas to start you out.  Add a couple of extra days to your trip and enjoy all that Milwaukee has to offer. 
Make your reservations now!  
Our venue hotel is the Sonesta Milwaukee West at $129.00 / a night.
Call 800-766-3782 - Be sure to mention Wisconsin Jaguars Ltd or go to this link to register online.
To all JCNA members coming to the Milwaukee AGM, there are three places where you have to register.
1. You need to register for the weekend AGM event and its activities.
2. You need to make a room reservation at the host hotel.
3. You need to register as an approved delegate or proxy to be recognized as representing a Club.
SCHEDULE
THURSDAY, MARCH 24, 2022
| | |
| --- | --- |
| TIME | ACTIVITY |
| 5:00 - 9:00 PM | Board of Director Dinner |
FRIDAY, MARCH 25, 2022
| | |
| --- | --- |
| TIME | ACTIVITY |
| 7:00 - 8:00 AM | BOD Breakfast at Sonesta Milwaukee West |
| 8:00 AM - 2:00 PM | BOD Meeting at Sonesta Milwaukee West |
| 12:00 PM | BOD Lunch |
| 12:30 PM | Member & Guest Bus Departs for Korneli Collection - Lunch & Guest Speaker Brian Sheridan |
| 2:00 PM | BOD Van Departs for Korneli Collection |
| 4:30 PM | Bus Returns to Sonesta |
| 6:00 - 10:00 PM | Dinner & Music / Dancing at Sonesta |
SATURDAY, MARCH 26, 2022
| | |
| --- | --- |
| TIME | ACTIVITY |
| 7:00 - 8:00 AM | Breakfast for Registrants at Sonesta |
| 8:00 AM - 2:00 PM | Annual General Meeting incl Registrant Lunch  |
| 3:00 PM | Bus Departs for Wisconsin Automotive Museum |
| 5:30 PM | Bus Departs for Wisconsin Automotive Museum |
| 6:00 PM | Cocktails at Museum |
| 7:00 PM | Banquet & Awards Presentations - Guest Speaker Brian Sheridan, Walkinshaw Program Director of Le Mans Winning Jaguar Team |
SUNDAY, MARCH 27, 2022
| | |
| --- | --- |
| TIME | ACTIVITY |
| 7:00 - 8:00 AM | Farewell Breakfast at Sonesta |
| 8:00 - 10:00 AM | BOD Meeting at Sonesta |
MEETING AGENDA
| | | |
| --- | --- | --- |
|   | PRESENTER | REPORT |
| A-00 AGM Weekend Schedule | Deb Korneli | Yes |
| A-0 Agenda (v03142022) | NA | Yes |
| A-1 Introduction | John Boswell | Verbal |
| A-2 Introduction of JCNA Board of Directors | BoD | Yes |
| A-3 Delegate Roll Call (v03132022) | Bob Matejek | Yes |
| A-4 Administrative Instructions  | J Boswell & B Matejek | Yes |
| A-5 Approval of 08282021 AGM Minutes | Bob Matejek | Yes |
| A-6 Old Business |   | NA |
| A-7 New Business | Included in Committee Reports | NA |
|   |   |   |
|   | COMMITTEE REPORTS |   |
| CR-1 Administrative |   |   |
| CR-1A President's Perspective | John Boswell | Yes |
| CR-1B Treasurers Report | Bill Sihler | Yes |
| CR-1C JCNA Financial Status | Bill Beible | Yes |
| CR-1C1 2022-2026 Financial Plan | Bill Beible | Yes |
| CR-1D Business Committee Report, Insurance | Bill Beible  | Yes |
| CR-1E Election Committee Report - Regional Directors & Executives | Lisa Shafer | Yes |
| CR-2 Membership |   |   |
| CR-2A Membership Numbers Comparison | Les Hamilton | Yes |
| CR-2B1 Membership Committee Report | Mark Mayuga / Nedra Rummell | Yes |
| CR-2B2 Membership Benefits List | Mark Mayuga / Nedra Rummell | Yes |
| CR-2C Marketing Committee Report | Kurt Jacobson | No |
| CR-2D Publicity, Social Media, Facebook, Etc. | Les Hamilton | Yes |
| CR-2D1 JCNA Member Benefits One Sheet | Les Hamilton | Yes |
| CR-2E Regional Presidents Zoom Meetings | Paul Petach | Yes |
| CR-3 IJFs & AGMs |   |   |
| CR-3A IJF & AGM Calendar | Bob Matejek | Yes |
| CR-3B 2021 IJF - Dallas Oct 2022 | J.J. Keig | Yes |
| CR-3C 2023 AGM- Bay Area, CA Mar 2023 | Phil Endless | Yes |
| CR-3D 2023 IJF - Santa Barbara, CA Nov 2023 | Mark Mayuga | Yes |
| CR-3E IJF Committee Report | Mark Mayuga | Yes |
| CR-4 Concours |   |   |
| CR-4A Concours Committee Report | Jim Sambold | Yes |
| CR-4B Concours Rules Committee v02122022 | Hal Kritzman | Yes |
| CR-4C 2023 Concours Rule Book Changes v02112022 | H Kritzman & S Kennedy | Yes |
| CR-4D Proposed 2023 Chief Judge Test | H Kritzman, Jim Sambold & S Kennedy | Yes |
| CR-5 Jaguar Journal |   |   |
| CR-5A Jaguar Journal Editor | Peter Crespin | Yes |
| CR-5B Jaguar Journal Committee | Rob Thuss | Yes |
| CR-5C Jaguar Journal & Website Advertising | Diane Dufour | Yes |
| CR-5D Electronic Jaguar Journal | Les Hamilton | Yes |
| CR-6 Coventry Foundation | Tom Wright | Yes |
| CR-7 Revised Group Affiliation Agreement | Bob Matejek | Yes |
| CR-8 Website Status, Update, Calendar & Results | Jack Humphrey | Yes |
| CR-9 Slalom Classes Revisions | Mike Meyer | Yes |
| Misc - Open Floor Discussion | Delegates & Guests | NA |
|   |   |   |
| The Reports Below Will Be Discussed, Time Permitting & Are Included In The AGM Packet |   |   |
| CR-10 JCNA-JLR Liaison Report | Barbara Grayson | Yes |
| CR-11 JLR-JCNA Liaison Report | Fred Hammond | Yes |
| CR-12 Jaguar Archives Report | Fred Hammond | Yes |
| CR-13 Administrators Report | Jack Humphrey | Yes |
| CR-14 Legal Counsel Report | Rob Thuss | No  |
| CR-15 Club Locator Service |   |   |
| CR-15A Club Locator Service 2012 - 2021 Pg 1 | Nedra Rummell | Yes |
| CR-15B Club Locator Service 2012 - 2021 Pg 2-4 | Nedra Rummell | Yes |
| CR-16 Protest Committee | Knick Curtis | No |
| CR-17 Rally Committee Report | John Corey | Yes |
| CR-18 Slalom Committee Report | John Larson | Yes |
| CR-19 Special Awards Committee Report | Bob Matejek | Yes |
| CR-20 2021 Event Roll-Up | Jack Humphrey | Yes |
| CR-21 Trophy Report | Dave McDowell | Yes |
|   |   |   |
Download the complete AGM Packet in PDF
Information As Of: 0315022