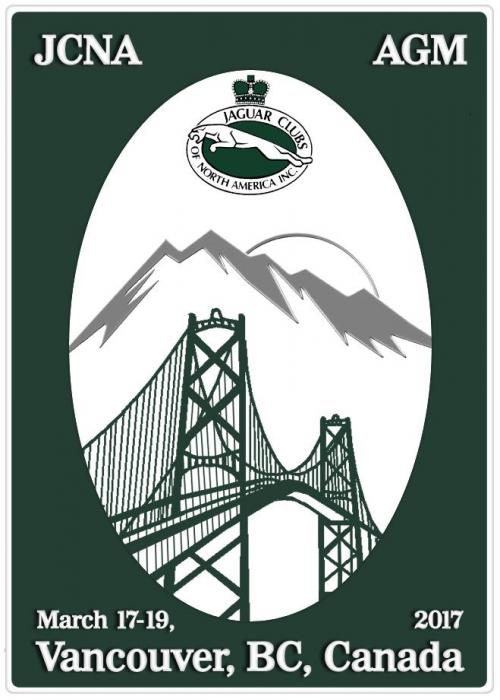 Date: Mar, 17 2017 Mar, 19 2017
Event Details
Information Updated - March 8, 2017
Hosted by the Canadian XK Jaguar Register and The Canadian Classics MG Club
Host Hotel:  River Rock Casino and Resort
                    8811 River Road, Richmond, B.C.  V6X 3P8
Passports are required for international travel to Canada, and check your medical coverage outside of the USA.
The US dollar is presently worth $1.30 Canadian, so enjoy your stay at a significantly reduced rate.  Your credit card will show approx. 30% less on all CDN purchases. US dollars are also accepted by all businesses and vendors.
Important issues are coming to vote at the AGM, so attendance and input from all clubs is encouraged.
Many social activities balance the business, such as the Friday evening St. Patrick's Party with live Irish band, Friday and Saturday afternoon seminars and outside spouse tours, plus Saturday evening's Awards Banquet and program.  Enjoyable speakers and video presentations follow the dinner, and members can accept their year-end trophy congratulations on stage.
Arriving by Plane
River Rock is literally a few minutes from the Vancouver International Airport, and is easily accessible by taxi or by the new Canada Line Skytrain that departs directly from the airport.  Get-off the Skytrain at The Bridgeport Station, and you'll see River Rock from the platform. The hotel is the second stop on the line, a quick 7 minutes away from the airport.  If you have a lot of luggage, consider a taxi from the airport.
Arriving by Car
River Rock is centrally located for drivers coming from Vancouver, the Lower Mainland or Washington. By car, a mere 10 minutes from Vancouver International Airport and 20 minutes from downtown Vancouver or the US border. Need directions?
Making a Reservation
http://www.riverrock.com/ or toll-free 1-866-748-3718.  For special room rate of $149 or a 1 bedroom suite rate of $179, mention Jaguar Clubs of North America or use room block code 1803Jaguar for reservations by phone. Go to https:/1803JAGUAR to register online.
Check with hotel reservations for location of complementary parking garage.
Stay awhile and explore the area: http://www.tourismvancouver.ca/
North America's premier ski destination, Whistler Blackcomb, is an hour north of Vancouver – plan to stay and ski awhile - www.whistlerblackcomb.com.  Or take the ferry to Vancouver Island and the city of Victoria -  www.tourismvictoria.com .  Or explore Vancouver - www.tourismvancouver.com.
Schedule
Thursday, March 16th
AGM Registration Desk - 1 pm – 5 pm
​Welcome Reception in the Curve Lounge - 5:30 - 7 pm
Friday, March 17th
AGM Registration Desk - 9 am – 4 pm
BOD Meeting - 8 am – 3 pm
Seminar: JCNA Special Awards Program - 3:30 – 4:45 pm
Guest Program – Tour to Bloedel Conservatory with Lunch - 10 am – 3 pm
St. Patrick's Day Dinner Party - 6 pm – 10 pm with Irish band.
Saturday, March 18th
AGM Registration Desk - 7 am – 10 am
AGM Delegate Breakfast - 7 am – 8 am
Annual General Meeting - 8 am – 3 pm
AGM Buffet Lunch - 11:30 am – 12:30 pm
Seminar – Judging Exotic Cars Around The World, Nigel Matthews, Hagerty, Ins. - 3:30 – 4:45 pm
Guest Program - 10 am – 3 pm
Tour of Museum of Anthropology and lunch www.moa.ubc.ca
AGM Reception - 6 – 6:45 pm
AGM Awards Banquet and Program - 7 – 10 pm
Sunday, March 19th
BOD Meeting - 8 – 10:00 am
Deadlines
Club Delegate / Proxy Forms - February 15, 2017.
NEW DATE - February 28, 2017 - River Rock Resort Hotel has extended the special JCNA rate. Members can still register as guests for weekend events an for discounted rooms and suites.
New Business
NB-1 Concours Program Proposal will be presented with the Concours Committee Report
(as of February 27, 2017)
Registrar
Bev Kolosoff; email - bikolosoff@telus.net