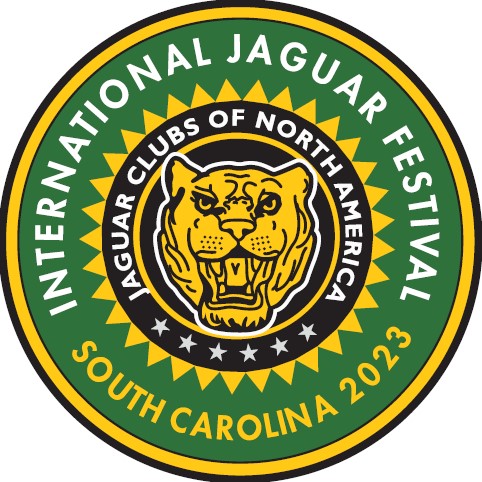 Date: Sep, 28 2023 Oct, 01 2023
General Overview
Jaguar Society of South Carolina (JSSC) will carry the JCNA banner and host the 2023 IJF in
Columbia, South Carolina. Coventry Foundation has answered the call and will co-host with a
reception, open house, cocktail hours and serve as a hub between our JCNA sanctioned concours,
rally and slalom. We are calling on JCNA regional clubs and JCNA members and Jag enthusiasts to
join us to make the 2023 IJF successful. Thanks to our Southeast Region for all your support!
This NOS IJF is planned as a high speed, low drag celebration with our warm Southern clime, vibe
and cuisine; with fine, fast Jags and spirited drivers over four active days, at vintage cost.
August 28, 2023 Update
As we are now one month away from the IJF events, we are asking those who have not
registered and plan to attend to register by September 7th, 2023.
We will not guarantee registrations submitted after this date. We will certainly try to
accommodate those who do register during the two weeks before the IJF. However, for final
event planning purposes, we will move forward at the end of the first week in September, and
plan based on the registrations received by September 7th, 2023.
So, if you are planning to attend, please do register soon. It will help all because we can
more accurately plan meals and amenities. For those who learn later that they are able to attend
due to changed circumstances, please contact us and we will likely be able help.
On or around the Sept. 7th, we will contact registrants via email so that we can help with
entry, dietary, and other specific and nonroutine matters and provide any additional travel and
other helpful information.
Thanks to all who have registered thus far. Cheers.
Please contact Rob Thuss at (888) 258-2524 (option 3) or email rrthuss@me.com for details.
Event Schedule
Thursday, September 28th – Opening Reception and Open House
Thursday, from 2:00 PM to 9:00 PM, Coventry Foundation ("CF") will host an open house with
activities, heavy hors d'oeuvres and refreshments throughout the afternoon. Several Jags, the
factory tool collection, rare Jaguar literature, media, and collectibles, and the JCNA archives, will
be on view. Cheers to JCNA and CF Boards of Directors: a Cocktail hour with cash bar for all!
 
Friday, September 29th – Sanction Rally and Dinner Party at Saluda Shoals River Center
Friday promises a sanctioned rally around Lake Murray and country roads, followed by a catered
dinner party at scenic Saluda Shoals; and drop in hours at Coventry Foundation during the day.
 
Saturday, September 30th – JCNA Sanctioned IJF Concours at Saluda Shoals
Sanctioned JCNA IJF Concours at Saluda Shoals: a full day picnic at Saluda Shoals with a repeat
of our southern BBQ with competition pitmasters on the grill, just like we served at the 2021
AGM. Blue ribbon baby back ribs, pulled pork, bbq chicken and southern sides will be on the
table when we ring the dinner bell. IJF Awards and Trophy Presentation before we close!
 
Sunday, October 1 – Sanctioned Slalom
Wrap up the weekend with a spirited Sanctioned Slalom on Sunday morning. We hear that some
of JCNA's fastest ever slalom champs will attend. Bring your helmets or we'll share ours!
Event Deadlines
September 7, 2023 - Event Registration
Points of Contact
Please contact Rob Thuss at (888) 258-2524 (option 3) or email rrthuss@me.com for details.