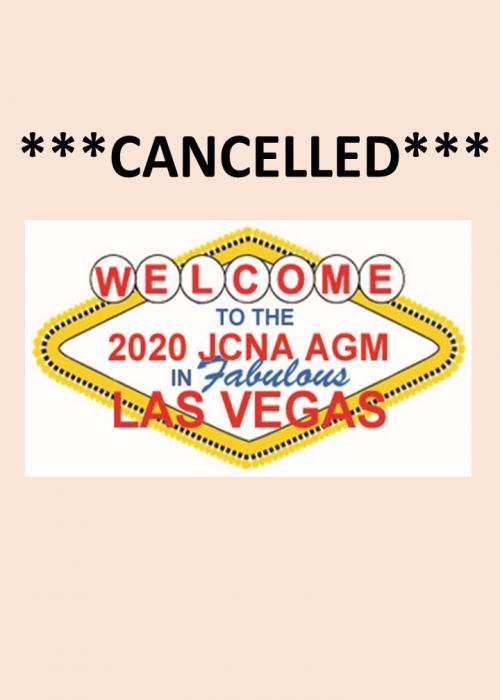 Date: Mar, 19 2020 Mar, 22 2020
Event Details
****** THE AGM HAS BEEN CANCELLED - ADDITIONAL INFORMATION WILL BE POSTED AS IT BECOMES AVAILABLE *****
This Year's AGM is being hosted by the Rocky Mountain Jaguar Club in Fabulous Las Vegas, Nevada.
Our Host Hotel is Harrah's Hotel & Casino. To book your Hotel room please click on this link : https://book.passkey.com/go/SHJAG0.
NOTE: YOU must also fill out and submit the JCNA Delegate/Proxy Form located on the JCNA website.
Only two voting delegates are permitted from each JCNA affiliate club. There is no restriction however on the number of members wishing to attend all related AGM activities.  This invitation is extended to all affiliated club members and their guests wishing to attend the 2020 AGM.Harrah's Hotel Reservations. Phone reservations 800-214-9110 are an additional $30. Be sure to say you are with Jaguar Clubs of North America to get the $185 a night rate.Registration closes as of March 1, 2020, and availability of activities may be limited after that date. Registration can be accomplished by one of two methods:
Method 1 – Fill out the registration form below select your choices in the pay pal drop down and pay by credit card through Pay Pal.
Method 2 – Print out the form, complete, and mail with a check for the registration fee to:
Rocky Mtn. Jaguar Club – 2020 AGM,  8137 Zang Street, Arvada, CO 80005, dkennedy@ecentral.com, 303-489-3944
 Make Checks payable to RMJC
Thursday is Las Vegas on your own if you want to come in and see the sites, some suggestions:
Neon Museum, vintage Las Vegas Neon Signs, Mob Museum, Celebrity Cars, Shelby Museum and many options for shows, if there is something or someone you would like to see we suggest you make those reservations in advance.  Some really fun shows are any of the Cirque du Soleil: Beatles Love, Mystere, O, these are all excellent. There are so many options you'll have to look and see what you would enjoy.  We will have a 7 passenger van available and club member drivers to transport you to off site locations during the day on Thursday and Friday. 
Schedule
Thursday, March 19th
Day Time Activities On Your Own (Transportation Will Be Available To Many Of The Activities)
| | |
| --- | --- |
| Hollywood Car Museum | Fountains of Bellagio |
| Las Vegas Neon Museum | High Roller Ferris Wheels |
| Nostalgia Street Rods Museum | Hoover Dam Tour |
| The Mob Museum | Shopping at the Venetian Mall |
| Las Vegas Motor Speedway | Casinos |
Evening Activities On Your Own
| | |
| --- | --- |
| The Beatles Love | Cirque de Soleil Mystere |
| Penn & Teller | Rat Pack |
| Tenors of Rock | Michael Jackson One |
| David Copperfield | Dozens of Other Great Shows |
Board of Directors Agenda
| | |
| --- | --- |
| 7:30 - 10:00 PM | BOD Dinner - Harrah's "I Love This Bar & Grill" |
Friday, March 20th
Day Time Activities On Your Own (Transportation Will Be Provided To Many Of The Activities)
| | |
| --- | --- |
| Hollywood Car Museum | Fountains of Bellagio |
| Las Vegas Neon Museum | High Roller Ferris Wheels |
| Nostalgia Stree Rods Museum | Hover Dam Tour |
| The Mod Museum | Shoppint at the Venetian Mall |
| Las Vegas Motor Speedway | Casinos |
Scheduled Activity
| | |
| --- | --- |
| 5:00 - 8:00 PM | Celebrity Cars Event Center & Tour - Cocktails & Hors d'oeuvres  |
Board of Directors Agenda
| | |
| --- | --- |
| 7:00 - 8:00 AM | BOD Breakfast |
| 8:00 AM 3:00 PM | BOD Session |
| 3:15 - 4:15 PM | BOD Breakout Sessions |
Saturday, March 21st
AGM Agenda
| | |
| --- | --- |
| 7:00 - 8:00 AM | Attendee Breakfast |
| 8:00 AM - 3:00 PM | Business Meeting |
| 3:15 - 4:00 PM | Seminar 1 |
| 4:15 - 5:00 PM | Seminar 2 |
| 6:00 - 7:00 PM | Cocktail Hour |
| 7:00 - 10:00 PM | Dinner & Awards Presentations |
Sunday, March 22nd
Tentative Board of Directors Agenda
| | |
| --- | --- |
| 8:00 - 10:00 AM | BoD Breakfast Meeting |
Deadlines
AGM Business Posted - February 5, 2020
Delegate / Proxy Form Submitted - February 15. 2020 (Closed)
Hotel Reservations - February 18, 2020 (Closed)
AGM Registration - March 1, 2020 (Closed)