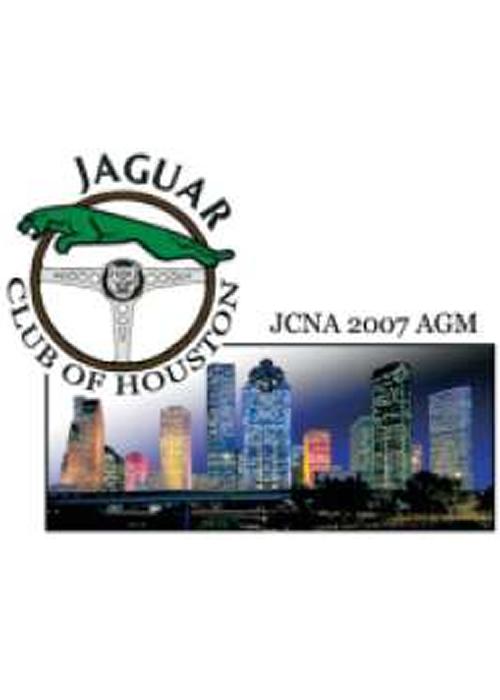 Date: Mar, 23 2007 Mar, 24 2007
Event Details
Thank you to the Jaguar Club of Houston for its work in hosting the 2007 AGM !
- Elections -
President : Dennis Eynon
Vice President : Steve Weinstein
Secretary : Sherman Taffel
Exec. Com. Member : Phil Miller
- Awards -
Andrew Whyte Service Award : Kurt Rappold, Delaware Valley Jaguar Club
Fred Horner Award : Dave Belanger, Jaguar Club of Houston
Karen C. Miller Award, Editor of the Year: Ginger Corda, Jaguar Club of Florida
Dealer of the Year : Momentum Jaguar, Houston Tx
 
- Newsletter Awards -
Editor of the Year, Karen C. Miller Award : Ginger Corda, Jaguar Club of Florida
Technical
First : Refurbishing An E-type Door Hinge, Harvey Ferris, The Litter Box, Carolina Jaguar Club.
Second : Digital Photo Tips, Les Garbutt, Classical Gas, Canadian XK Jaguar Register
Third : Hold Those Guides!, George Parker, Kitty Letter, Jaguar Association of Central NY
Heritage
First : Ford's Problem Child, Michael Tate,The Jaguar's Purr, Delaware Valley Jaguar Club
Second : Cozzi Jaguar Special. Ray David, Jag Bag, Sun Coast Jaguar Club.
Third : Dedication of the Historic Race Circuits of Elkhart Lake, Bob Reid, The Mountain Jaguar, Smoky Mountain Jaguar Club.
Photo
First : E-type With Mansion, Cara Schneider, X-Files, Music City Jaguar Club.
Second : E-type and Wind Generators, Rod Lindoo,The Jag Rag, Illinois Jaguar Club
Third : Slalom Registration., Dr. Murray Smith, The Ontario Jaguar, Ontario Jaguar Owners Association.
Event
First : 2006 Lime Rock Vintage Festival., Stu Forer, The Coventry Cat, Jaguar Association of New England.
Second : OJOA 2006 Slalom, Steve Sheriff, The Ontario Jaguar, Ontario Jaguar Owners Association
Third : Festival of Speed., Mac Ballard, Jagwire. Jaguar Club of Florida.
Travel
First : Going To The Sun, Cathy Kakuska, The Jag Rag, Illinois Jaguar Club.
Second : The Oregon Trails Tour., Doug Ingram,The Island Growler, Jaguar Car Club of Victoria.
Third : Jaguar Brass Band Wows Chicago., Cliff Burk, Jagin Jive, Jaguar Association of Greater Indiana.
Committee Reports
1/26/07 Nominating Committee Report - Gary Hagopian
3/8/07 Slalom Committee Report - Steve Weinstein
3/15/07 JCRC Report - Dick Cavicke
3/20/07 Passport to Service Report - Sherman Taffel
3/20/07 Membership Committee Report - Doug Ingram
The members of the Jaguar Club of Houston extend a warm welcome to the officers, delegates, and guests who will attend the 2007 JCNA AGM in Houston, Texas on March 24th. The complete agenda is on the registration form that accompanies this article, and is also available on jcna.com and jcoh.cc.
Here are a few things you need to know
Getting to Houston
Houston has two major airports - George Bush Houston Intercontinental Airport (IAH) and William P Hobby (HOU). The former is served by major carriers and is a hub for Continental Airlines. It is approximately 26 miles from the host hotel, the Houston Hilton Post Oak, which is located in the Galleria area west of downtown. Hobby is home to Southwest Airlines and several regional carriers. It is about 21 miles from the hotel. Houston is the nation's fourth largest city, and driving times vary, but anticipate heavy traffic during rush hours.
Taxi cabs operate on a zone system, and rides from Bush and Hobby currently cost $49.50 and $44.00, respectively. Shuttle services are also available, and the Hilton suggests Super Shuttle (1-800-258-3826 or 713-523-8888), which charges $27 (IAH) and $23 (HOU) respectively, or Texas Shuttle (713-781-6660) which charges $18 and $23. For those driving to the AGM or renting a car, self-parking at the hotel is $13 per day. (Bus and rail are not options.)
Friday Evening, March 23
AGM delegates and guests will have an opportunity on Friday evening to visit one of the largest private car collections in the country. Our host will be noted attorney John O'Quinn. His private 750+ car collection contains cars from the brass era to modern supercars. In addition to rare Jaguars such as the XJR-15 and the XJ220, his collection includes cars owned by public figures such as Queen Elizabeth and Pope John Paul II (before he became Pope) and cars featured in films such as the Batmobile.
After viewing the O'Quinn collection, the group will travel a short distance to the Saint Arnold micro brewery for a Texas-style BBQ dinner. Saint Arnold has received many awards and was featured in a Business Week Personal Business article on small regional breweries. Their taps will be running all evening. JCOH will provide all transportation.
AGM Activities
In addition to the business meeting on Saturday, there will be four technical seminars on Friday and Saturday and the awards banquet on Saturday evening. The banquet speaker will be a senior executive from Jaguar Cars whom you won't want to miss.
Other Attractions
For those arriving early or staying after, the Houston-Galveston area offers something for everyone. Some noteworthy stops include Space Center Houston, the battleship Texas (a pre-WW I dreadnought that fought in both world wars), the Museum District, and major league sports. For up-to-date information on what's available, check www.VisitHoustonTexas.com
Helpful Links
Links and Resources -
Jaguar Club of Houston
Houston Post Oak Hilton
www.VisitHoustonTexas.com
2007 official AGM Minutes
- Hotel Info -
The AGM will be held at the Houston Hilton Post Oak Hotel. This premier property is located just blocks from the famed Galleria shopping center, home to Neiman Marcus, Saks, Nordstrom, and other designer names such as Gucci, Prada, and Tiffany's.
Hilton Houston Post Oak Hotel 
in Houston's Galleria Area
1 800 HILTONS - (713) 961-9300
$ 109 a night JCNA group rate, valid 3 days before/after
on a space available basis
(group code JCN, reservation deadline march 8th )
 Google Earth File
Registration packets will be mailed to all JCNA affiliate clubs and posted on the web when available.
- Schedule -
Thursday- March 22nd
3pm -9 pm Registration
Friday- March 23rd
8am - 5pm Registration
8am - 3pm JCNA Board of Directors meeting
1pm - 3pm Seminars:
details tba
6pm - 7pm Private Collection tour
7pm - 10pm Dinner at Saint ARnold Micro Brewery
Saturday- March 24th
6:45am - 7:45am Breakfast
8am - 11am Registration
8am - 3pm Annual General Meeting
12pm-1pm Lunch
3pm - 5pm Seminars:
details tba
6:30pm Cocktail hour
7:30 pm Banquet and Awards
Guess Speaker : Senior executive from Jaguar Cars